Cassildra
All About Her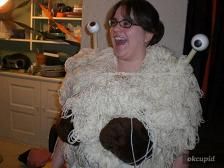 Cassildra is a fledgling DJ with a smokey voice and the desire to make everyone happy (in the pants). She's 25, working as a temp, and is hoping to go to college some time soon for History and Library Science. She's also addicted to crocheting and the forum website Ravelry. She will likely talk about fibercrafting on the air at some point, so if it bores you, send a k-mail or a Skype message telling her to shut up about the damn yarn, already. Cassi's a huge Electronic Body Music fan, but listens to a lot of everything. She loves Assemblage23, older Apoptygma Berzerk, Coheed and Cambria, Jimmy Buffet, and basically anything with a good, sexy beat you can dance to. She also loves filk. Go look it up: Filk on Wikipedia.
"Cassi's Conundrum"
Cassi tends to play whatever she feels like, going from filk to EBM to hair metal to classical. She loves music, and wants to share her love with everyone. Dead air is anathema to her, so she tries to find music for everyone.
Requests and Donations
Cassi definitely takes requests, through Skype, k-mail, e-mail (cassildra at gmail dot com) and PM. She will try her hardest to play them. Her multi is DJ Cassildra, and feel free to send meat and prizes there!