discWorLdian
All About Her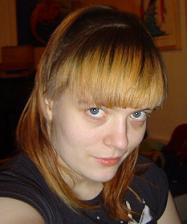 DiscWorLdian is a GKOL DJ and a 23-year old language student from the Netherlands who has been around in the Kingdom since 2006. She lives on one side of A Bridge Too Far (kudos if you've seen the movie) and goes to university on the other side. She is not a native speaker of English but does spend a lot of time in Britain. She enjoys reading sci-fi and fantasy books, comics, and the backs of shampoo bottles. Her taste in music mainly hovers around metal and indie, her favourite bands being The Cure, Pelican, K's Choice, Toad the Wet Sprocket, Soulwax and the Decemberists.
"The Chain"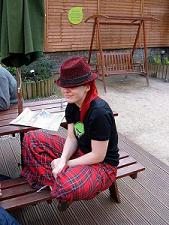 DiscWorLdian hosts "The Chain" on GKOL. "The Chain" is a show where it is possible to win prizes by making requests in an interesting way, linking one song to another. The connections between the songs can range from a similarity in band names or song titles (linking "Fade to Black" to "Paint it Black" or Boys 2 Men to the Spice Girls, for example) to some interesting story (Both "Tainted Love" and "Bananaphone" were songs you used to ask a girl out to - hey, I don't know, the more interesting, the better). Music will mainly consist of indie and rock music and also anything local to discWorLdian (Dutch and Frisian language music, for example), but pretty much anything is possible. There may even be the occasional BBC Radio 4 comedy.
Requests and Donations
DiscWorLdian loves requests! They can either be asked for in k-mail or blue message, or sent in to discworldian@gmail.com. Donations are always greatly appreciated and can be sent in to discWorLdian (#849278). Please clearly mark everything as a donation!