Gecko08
All About Him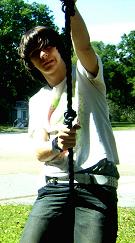 Once upon a time in The Land of Awesome, there was a brave Knight whose name was Sir Lancelot... but enough about him, we're here to talk about Gecko08. Born in the boring Midwest state of Illinois, we have the one, the only, Gecko08. Ever since he was a young tot he was very theatrical and dramatic he was the lead part in all the church/school plays in elementary school). Now hailing from big bad Jacksonville, Florida, Gecko08 is a 17 year old super hippie, vegetarian and all! When not hating school, he loves music, photography, KoL, fluffernutter sandwhiches, his very lovely lady, and just about everything else.
"Gecko's Magical Mystery Show"
Despite the name, you will hear music of all types - not just hippy music! Gecko will be playing anything from The Beatles to Slipknot, unknown to mainstream, and maybe even some of his own tunes that he has recorded! The games? Well, since GKOL does exist to give you sh1t, there will be tons of games! Usually "Nobody Wants It", ARs, and trivia that will require you to have a banana belt in Google-FU.
Requests and Donations
Requests and donations go straight to Gecko08. If it is a request he will try as hard as he can to look for it, and if it is a donation, whenever you send it just type something letting him know that it is for GKOL.