Perkysaurus
All About Him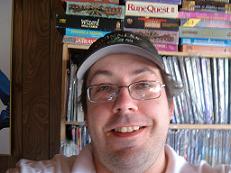 With a great love of roleplaying games and a lot of other geeky pastimes, Perkysaurus is a DJ on GKOL. Though a relatively new player on the Kingdom, his vast library means his random theme shows are always to be full of interesting tidbits. 38 yrs old going on 16, Perkysaurus has the proverbial 'young at heart' thing down pat and it is unlikely you will ever meet a perkier or more upbeat person. Hailing from the Wild interior of British Columbia, Perkysaurus will bring you two amazingly awesome shows of awesomeness.
"Symphony in Effect"
Perkysaurus' Thursday show, "Symphony in Effect", spotlights complete works of the Masters of the Classical genre. No highlights here - everything is always played in full length and effect, often with all sorts of interesting information behind the music and composer interjected in between the songs. Expect to see Mozart, Beethoven, Dvorak, and the other Masters.
"Music with a Message" plays on Sunday and brings you a wide slice of Christian music - everything perky pop, heavy metal, and more traditional praise. Come see what modern christian rockers are doing with the genre. You can expect to see the big names like Petra, DC Talk, Jars of Clay, and Stryper along with relative new comers like Cadia, Skillet, Barlow Girl and everything else in between.
Requests and Donations
Requests are always welcome though they may not always be played in the show they are received. Worry not in that event, though - they will be played first thing on Perkysaurus' next show. He would ask that song request stay within the genre of the show he is DJing at the time.