Triptolemus
All About Him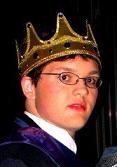 Triptolemus is a consummate professional. He has played golf with President Obama. Mosquitoes find that his blood is too rich. He once stopped an avalanche with the sound of his voice. Some people call him the most interesting DJ in the world.
Triptolemus loves accounting, movies, tv, reading, the classics, and computers. It might actually be easier to say what he doesn't like - fake people and things that skip (besides Skips on Regular Show, who's voiced by Mark Hammill. He's ok.)
Triptolemus just finished his undergraduate degree and will start his Master's in Accountancy in the fall. Yes, he can help you with your taxes. No, he will not sign off on your taxes.
"The Classicist Jerk"
Triptolemus hosts "The Most Interesting Show in the World". Expect trivia, mini-history lessons on things you don't care about but should, and lots of games and prizes. Also expect regular appearances from high profile celebrities. Or at least bad impressions of high profile celebrities.
Requests
Triptolemus wants your requests. He needs your requests. He wants to treat your requests right. So send them to triptolemusgkol@gmail.com. Donations can go to his prize multi, Stygian56.